The clause in Cheika's contract that could see him coach Wallabies beyond 2019
A clause in Michael Cheika's contract could allow him to continue with the Wallabies beyond 2019 only if they win the World Cup – something the Australian coach believes he is entitled to because he is putting himself on the line.
There has been plenty of speculation Cheika will stand down after the 2019 World Cup after five years in charge.
Kiwi-born coach Dave Rennie has been linked to the Wallabies job but Australia's director of rugby, Scott Johnson, said that while "due diligence" was being completed, the next Wallabies coach had not been confirmed.
While it is widely expected Cheika will stand down after 2019, the Herald understands the Wallabies boss has a clause in his contract allowing him to continue on if Australia break a 20-year drought and lift the Webb Ellis Cup in Japan.
Advertisement
Asked about his future on Thursday after naming his first Wallabies team of the year to face South Africa in Johannesburg on Saturday (Sunday AEST), Cheika said he was putting it all on the line.
He suggested he wanted to stay with the Wallabies if they win the World Cup. If not, it will be onto the next person.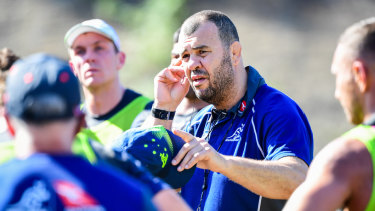 "We came second last time and this is a four-year run, so if we come first next time, I will have earned the right to stay on as the coach I think," Cheika said. "If we dont, then someone gets the opportunity. I think thats pretty straightforward and fair. Im a hard marker of myself and thats what I want to achieve in the game. Im prepared to put myself on the line for it and I know our players will as well.
"Ive been pretty transparent since day one. Saturday is the big focus right now but winning the World Cup is a dream we want to turn into a reality. I know most people would think that is a pipe dream but we dont."
Australia play five Tests – against South Africa, Argentina, New Zealand (two Bledisloe Cup matches) and Samoa – before they jet off to Japan for the World Cup, which begins in September.
Johnson has refused to put a timeline on the appointment of the next Wallabies coach but work is being done behind the scenes and that quality will take precedence over a preferred nationality for Cheikas successor.
The drums continue to beat that Rennie is next to line to coach the Australia after a six-year stint at the Chiefs before taking over at Glasgow, where he is contracted until June 2020.
However, should the Wallabies win the World Cup, Cheikas position might be safe, despite how unlikely that may sound.
Johnson played a straight bat when asked if Rennie was in the frame.
"Everyone that's coaching around the world's in the frame," Johnson said. "We're trying to find someone that suits. We've got a job to do here. The coach can wait."
JohnsonsRead More – Source