'Shifty' Sherwin returns to Bulldogs to mentor halves
Fifteen years after steering Canterbury to grand final glory, Brent Sherwin has returned to the "family club" to help mentor its playmakers.
Sherwin, the clubs last premiership-winning halfback, has been overseeing sessions with the current halves whenever the team trains on Mondays. The man dubbed "Shifty" is keen to advance in the coaching caper and has begun the journey by sharing his experiences with the likes of Kieran Foran, Lachlan Lewis, Brandon Wakeham and Jack Cogger.
The relationship has been beneficial for both parties. Sherwin gets a look at how coach Dean Pay and his assistants run their sessions, while the young playmakers get to learn from the man at the helm of the Bulldogs 2004 triumph.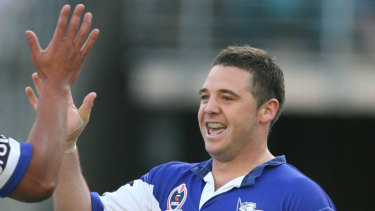 "Im really enjoying it," Sherwin said. "I love footy, I did it for a long time and if I can pass anything on to the kids, hopefully they can run with it.
Advertisement
"I spoke to Dean last year and said if you want me to do some kicking or whatever you want me to do, give me a ring. And he did.
"Whenever they train on Mondays I get down there and do some kicking. I look and watch, I like listening to the coaches because I want to one day coach.
"I watch the halves run around and its mainly just doing some kicking at the end, doing some different kicks so when they are in different situations they can pull it out of the bag because they have had some practice with it.
"Theyre going good and are keen to learn. Theyre training well, its only enjoyable going down each Monday."
Injuries to Foran and Lewis have provided opportunities for youngsters Cogger and Wakeham to impress. Cogger is now getting some serious game time after shifting from Newcastle, while the Bulldogs have enjoyed two wins in a row since Wakeham made his debut.
"They are younger and they are easy (to teach), they are keen to rip in and learn," Sherwin said.
"They are good footy players and theyll get better the more games they play. Thats how everyone gets their shot, when someone is injured. When Ricky Stuart got suspended, thats when I got my start.
"Its exciting at the moment, its a very young side and hopefully they will get better each week."
Wakeham has shown some early promising signs. The 20-year-old was a standout foRead More – Source